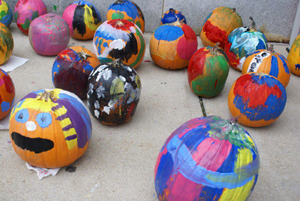 Keep a look out for the FBPA scholarships for students in the 17931 zip code who will be graduating from high school in 2019. Applications will be available in the spring at the Frackville Free Public Library and through this link: Scholarship Guidelines and Application
Thank you for supporting our annual fundraiser for the downtown holiday lighting project. This year again the library managed the sale of chances for two tickets to an Eagles game and some spending money. The new Christmas tree lights were well received!
The Frackville Farmers Market takes place in the spring every Thursday from 2 p.m. until 5 p.m. weather permitting until fall on Lehigh Avenue, where it intersects with Frack Street.
The Annual Pumpkin Festival is scheduled for October 5, 2019 on Frack Street between Lehigh Avenue and Balliet Street. The day starts with a parade of children's pumpkins from the Library to the festival site. There is also a penny art contest, a pie eating contest, food and craft vendors as well as pumpkin painting. Prior to the festival submit your entries for the Pumpkin Limerick Contest to the FBPA at PO Box 261, Frackville PA 17931. Also pick up your wooden pumpkin form at the library for the Art of the Pumpkin Contest. As the festival approaches, for more details and a schedule go to our Facebook page at FrackvilleBPA.
Each year in November the FBPA holds an evening meeting to celebrate its anniversary and encourage members, employees and prospective members to mix and mingle. Entertainment has ranged from "Elvis" to games, murder mysteries, wine tasting, boilo contests and movies and martinis. We hope to see you at our next mixer! This year our meeting will be at Roman's Lounge on November 14, 2019 for Steak Night!
Every December we hold a special meeting for the holidays at the Schuylkill Training and Technology Center. The food is always great and the atmosphere is jolly. This is one meeting you don't want to miss! We will be having a holiday sock exchange!
Check out the scroll with our meeting dates with a list of presentations and activities at those meetings.